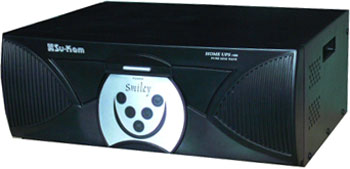 Salient Features
Provides pure sine wave output (100% pure)- purer than power from grid
Instant switchover: for the computer to run uninterrupted during power cuts, without rebooting.
Provides extra long back-up for computers
Space Saver - ideal for modern day households.
User friendly display of alerts
Choice of various aesthetically designed models.
Option of castor wheel mounted trolley for easy movement.
Option of LED or LCD display
Saves 40% electricity bill as compared to square wave inverter
Incorporates smart overload sensing and short-circuit protection with auto reset.
High end DSP based design.
Light weight and compact in design.
Overload and short circuit protection.
Battery deep discharge protection.
Charger capable of charging deep discharged batteries.
Charger is supported with spike busters and line filters eliminating every possible harmonic distortions.
CCCV based charger to reduce water topping frequency.
Better overload handling capacity as compared to ordinary inverter.
Noiseless in operation.
User friendly display and operation.
High surges capability.
Runs heavy loads.
Battery pole reversal protection.
Applications



Su-Kam DSP Pure Sine Wave 1400VA/24V inverter high Frequency series is widely used to run the following equipment:
Tube lights
Fans
Bulbs
TVs
DVD player
1 HP Motor
Refrigerator
See the Inverters page for more information
About Su-Kam - India's Premier UPS Manufacturer